Resuming Projects After a Temporary Shutdown Due to the COVID-19 Pandemic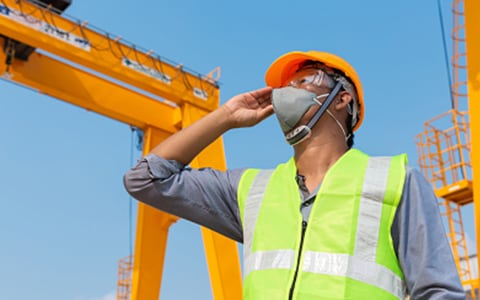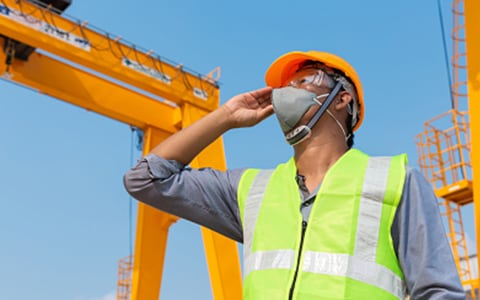 Reopening a construction project after a shutdown related to the COVID-19 pandemic can be challenging. There may be post-shutdown changes to the project schedule, workforce, available materials and job scope, which, if unaddressed, could result in substantial added time and cost.
As you are developing overall COVID-19 response efforts, work to help reduce risk through PATH – Plan, Act, Train, Health. These core principles can help ensure your business is operating safely in today's changing environment.
Plan
To help prepare your work site to reopen, develop a plan to help address conditions, hazards and appropriate controls.
General Inspection: Conduct a post-shutdown inspection of your site,

documenting any physical changes since the shutdown. Use pre-shutdown inspections, photos, test reports, and observational notes for comparison. Once identified, correct deficiencies and implement appropriate controls to ensure the site is safe for workers to return.

Post-shutdown Evaluation:

Evaluate the impact the shutdown may have on the project scope, budget, and schedule, as well as the residual impact these may have on safety and quality. Potential challenges to consider may include labour, material, and personal protective equipment (PPE) availability, and site security. Identify and implement appropriate controls. If material shortages necessitate product substitution, confirm new specifications are like and kind to the original.
 Changes

 Potential Impacts

 Revised Controls

Compressed schedule

More personnel on-site
Larger material storage
Weekend work/2nd shift

Add temporary facilities (restrooms, hand-washing stations)
Add parking capacity
Re-administer drug tests
Enhance site security
Increase laydown area size and/or secure offsite storage
Ensure on-site management coverage during weekend/2nd shift

Regional labor shortage

More new workers
More 2nd and 3rd tier contractors

Implement new worker orientation and onboarding
Prequalify new contractors and/or obtain insurance documentation
Provide enhanced site-specific orientations
Add safety personnel
Table 1: Example of changes to the project with potential impacts and revised controls.

Site-specific Safety Plan:

Develop a revised site-specific safety plan-based inspection and post-shutdown evaluation findings. Update emergency response plans and notify applicable authorities that work will resume. Consider the impact COVID-19 may have had on nearby medical facilities and develop contingency plans as needed.

Illness Response Plan:

Create an illness response plan that establishes procedures for handling the different types of COVID-19 situations (i.e., individual case vs. multiple cases, confirmed cases vs. suspected cases, etc.). Include notification requirements for all parties potentially involved, such as subcontractors and vendors. Consider adding a COVID-19-specific media response strategy to your company's crisis management plan.
Cleaning and Disinfecting plan: With the ongoing COVID-19 pandemic, it is crucial to review and update policies for

cleaning and disinfecting.
Your jobsites, facilities, equipment, tools and vehicles: The Irish government offers guidance on steps to take if infected persons have been on your jobsite or in your facilities, as well as proper cleaning and disinfecting procedures. Contractors should have a site-specific safety plan to address COVID-19 that adheres to Health Safety Executive, local government or other specific guidance. This plan should include job hazard analysis to identify employee training, work practices and policies related to employees, subcontractors, vendors and visitors.
Act
As you ready your site to reopen, it is important that your plan is put into action. Your site team should:
Review contracts.

Confirm that valid contracts are in place with all subcontractors, vendors, and service providers. Obtain new certificates of insurance and related documentation where needed. To help with infection control, consider limiting the number of subcontractors and vendors. Prequalify new contractors, including cleaning and security services, prior to work. Extend or renew rental agreements for site facilities, such as lighting, fencing, and trailers. Additional facilities may be required to support enhanced hygiene practices.

Implement social distancing measures.

The European Centre for Disease Prevention and Control defines physical distancing, also referred to as social distancing, as maintaining 2 meters between yourself and other people (about two arms' length). Clarify expectations and, where possible, assign duties in a way which helps workers maintain protective distances from others while on the jobsite. Other examples include staggering work shifts and limiting larger crews in areas of the work site. Be sure to address concerns related to workers being transported to and from projects. Enforce social distancing when it comes to vehicle transport as well. This may mean prohibiting carpools and enhancing protocols for shuttle bus use.

Review and adjust PPE protocols.

In addition to your established PPE programme, include COVID-related items such as gloves, face coverings and face shields, as appropriate for your operations. Face coverings need to cover the nose and mouth to help prevent the spread of COVID-19.

Develop written policies that explain expectations for PPE use/nonuse, such as when use of respiratory protection such as face-filtering facepiece respirators advised is required rather than voluntary.
Due to potential shortages of filtering facepiece respirators and masks, new guidance on the reuse of devices and guidance for fit-testing requirements has been issued.

Communicate with all workers.

Communicate revised safety policies to workers and visitors well in advance. Examples of new policies may include face covering requirements, handwashing protocols, and social distancing practices.

Verify building management needs.

Evaluate key areas for water damage and remediate as needed. Verify partial building systems are intact and functional. Recertify or retest building systems or components. Verify accessibility throughout the building. Ensure adequate ventilation for areas where equipment may run indoors. Post safety signage, including any new COVID-19-related instructions or warnings.

Review site management.

Verify placement and function of stormwater, sediment and pollution controls. Reactivate site surveillance or security systems. Identify laydown, staging and parking areas. Reconfigure the site layout to account for social distancing. Consider new site security concerns related to COVID-19. Note that disruptions in supply chain may mean that certain commodities and materials are prime theft targets.

Provide material management.

Inspect all materials, equipment and tools prior to use. Remove damaged or unusable materials from service. Validate expiration dates on time-sensitive installations, such as temporary roofing. Confirm usability of materials with limited UV exposures, such as primers or exterior wall waterproofing. Arrange for manufacturer re-inspections for materials and equipment and, where feasible, obtain written concurrence that warranty coverage will be provided. Clean and disinfect any high-touch surfaces of tools or equipment on site before work resumes.

Secure cranes, hoists and elevators.

Ensure that all on-site cranes, hoisting equipment, outside elevators and mast climbing scaffolds are inspected for defects by qualified personnel. Ensure that a qualified mechanic services, greases and performs required maintenance or repairs as needed. Obtain new copies of annual inspections, operator licenses and rigging/signalperson training qualifications as needed. It must be confirmed that all lifting, access and fall arrest equipment has a thorough examination prior to use. Obtain revised lift plans for changes in crane size, pick points, ground conditions, operators and substituted materials. Regularly clean and disinfect any high-touch surfaces prior to operation, especially if there is more than one operator.
 Train
Ensure workers are properly trained prior to resuming work after a COVID-19-related shutdown. When evaluating training for reopening your jobsite after a COVID-19-related shutdown, you should consider:
Labour Challenges:

Assess potential labour challenges posed by the shutdown. Note that some workers may be unable to return to work due to personal circumstances involving COVID-19. If an influx of new or less-experienced workers is expected, consider implementing sitewide new worker visibility and/or mentoring programs.

Orientation:

Administer drug tests and site-specific orientations in accordance with applicable owner and company policies. Communicate new policies and procedures related to COVID-19, such as new PPE requirements, hand washing protocols, and physical distance measures with all workers.

Training:

Incorporate daily reminders of safe work and hygiene practices into site safety meetings. Obtain operation- and equipment-specific training certifications or licenses.
Health
With the ongoing COVID-19 pandemic, ensuring worker health and safety is a top priority. Consider implementing:
Health screenings:

Some project owners and general contractors may require workers and visitors to complete health questionnaires. Health questionnaires typically ask respondents if they have experienced a list of COVID-19 symptoms, travelled internationally or have been exposed to a confirmed COVID-19 case in the past 14 days.
Cleaning and disinfecting:

Take steps to help decrease virus transmission from potentially-contaminated surfaces. Clean and disinfect shared "high-touch" surfaces, such as hand tools and operator controls, on a scheduled basis using disinfectant. Assign personal tools and equipment whenever possible.
Hygiene Facilities:

Hand hygiene can be achieved by frequent hand washing using soap and water for at least 20 seconds. In the absence of soap and water, hand sanitiser containing at least 60 percent alcohol may be used.